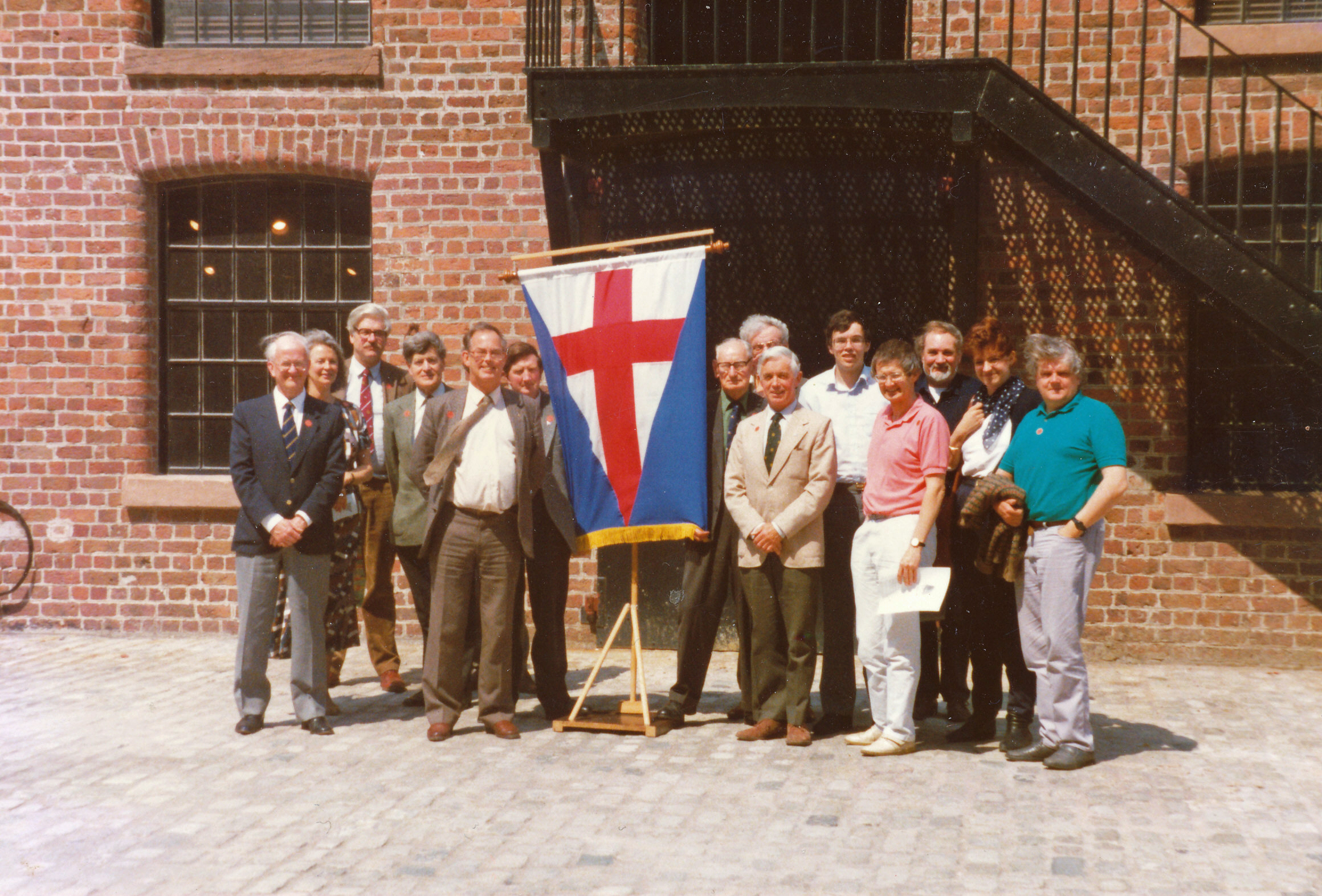 Regular readers know by now that I am a keen heraldist and am always on the lookout for new – hopefully free – material on the subject. Indeed, I am rapidly closing in on my nine hundredth armorial illustration for Wikimedia Commons. I have not written so much about vexillology, although of course the topics frequently intersect. Earlier this week I was trawling through EventBrite to see if there were any more events coming up soon by the Heraldry Society and instead found an advertisement for the fiftieth birthday of the Flag Institute.
After the standard Zoom introduction by Chairman John Hall, President Malcolm Farrow lectured on the development of the institute itself and of British flag culture more generally over the past fifty years. "The flag institute is instrumental in slowly changing the culture of Britain from a nation which rarely flew flags, to one in which flying flags is becoming the law." An overview was given of how local and regional flags have proliferated over the past two decades, having rarely if ever seen use before.
Andrew Rosindell MP gave a speech about his efforts to change public attitudes surrounding flags, in particular his campaign – including a personal conversation with The Queen – to have the Union Flag flown over the Victoria Tower throughout the year instead of only when Parliament was sitting. He also mentioned the recent erection of three new flagpoles in New Palace Yard.
There was also a lengthy preview of the documentary Look Away, Look Away by Patrick O'Connor about last year's change of state flag by Mississippi. Unfortunately the video feed cut out midway through and had to be restarted after some awkward fumbling.
Later a guest asked if the "All-party" Parliamentary Group on Flags & Heraldry could really be called that when six of the ten officers were Conservatives with Labour, SNP, DUP and Crossbench contributing just one each. Rosindell reassured as that there were plenty more within the rank-and-file, but sadly it was hard to make out his words as his audio feed was suddenly plagued by feedback noise. I think he said that anything so traditionalist in nature was bound to disproportionately attract those of a conservative outlook but that there were still plenty of others who recognised the importance of flags and/or held a deep patriotism.
Here it would be prudent to make a distinction between heraldry and vexillology: A coat of arms, even when displayed on a flag, must represent a person. That could be a natural person (Betty Boothroyd, Johnny Hon, Desmond Wilcox) or a legal one (The Association of British Neurologists, Guy's Hospital, Totnes Town Council). Flags cover a much broader remit, and can represent such abstracts as religions, ethnicities, and political ideals. Another important difference is that arms are only properly borne by their owners (though heralds can wear their masters' arms and badges can be worn by servants or soldiers) whereas flags unless specifically restricted can be flown by anyone. It is only natural that use of flags is much more prevalent than that of arms, and also that any particular flag is a lot more likely to cause a stir than any particular escutcheon.
There is a prevalent line of thought which deems too overt an invocation of British patriotism to be distasteful and thus, in itself, anti-British. Another related line says that nations more generally are not a meaningful affiliation and that flags – along with their natural companion, anthems – are a distraction for feeble minds. Attitudes toward our national insignia are quite sharply polarised by partisan affiliation and by demographic divides. HM Government has been conspicuously campaigning over recent months for greater use of the Union Flag in both public and private, resulting in praise from some quarters and mockery from others.
It doesn't look as if there will be any more from the Flag Institute for some time, but the Heraldry Society will be back on 14th May with Crosses and Crossings – Huguenot Heraldry. That the banner heading shows a star looking to be by Sodacan and a coat of arms by Rs-nourse is intriguing by itself.
EXTERNAL LINKS