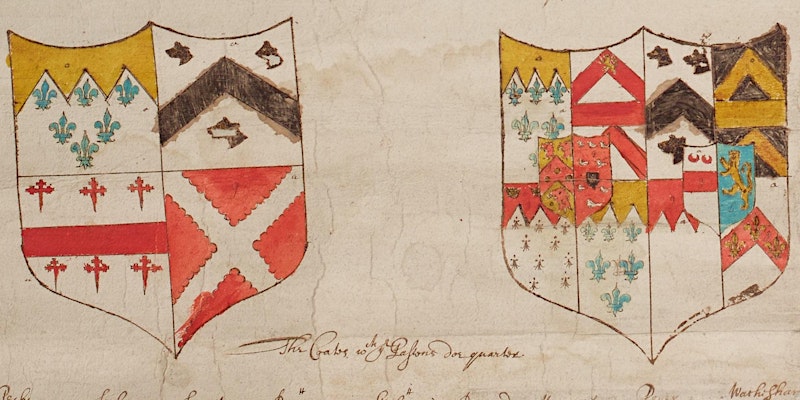 This afternoon I attended a virtual presentation by the Norfolk Record Office concerning the heraldry of the Paston family. I knew little of these people before signing up, but the topic was as intriguing as any other heraldry lecture.
The presenter was Dr John Alban of the University of East Anglia. He apologised for not being physically present in the office – having to divide his time equally between Norfolk and South Wales – but said it didn't matter since in a virtual lecture he was not restricted by location. That comment fell quickly into irony. The first few minutes of the lecture were plagued by technical difficulties as the audio failed completely for many in the audience, requiring us to log out of the session and then back in again. That was far from ideal, of course, since it caused us to miss the introductory sentences. At least we could see the slides, including establishing what the Paston arms were in their simplest form: Argent six fleurs-de-lis three two and one Azure a chief indented Or. He then showed us a gallery of uses of those arms in various places and by various institutions, whether alone or marshalled with others.
The main thrust of the presentation was in showing how arms mutated and evolved in the period before heraldic regulation, and how even after that armigers would be keen to manipulate the historical record for their own ends. Thus we saw a few alternate prototype versions of the Paston arms and their appearances in medieval and Tudor records. One especially interesting case study shown to us was William Cecil, 1st Baron Burghley, whose family history before Henry VII's accession Alban reckoned to be entirely fabricated.
At the end of the presentation an attendee asked Dr Alban to recommend books on heraldry. He suggested the works of Charles Boutell and Arthury Charles Fox-Davies, and was pleased when I pointed out that older works such as these were available for free on Google Books or Archive.org for those who could not access physical copies.
In these meetings I tend to scan the list of attendees for anyone remotely famous. This time I found Elizabeth Roads, Lyon Clerk from 1986 to 2018. As per usual I attempted at the end of the session to plug this blog. I probably left it a little too late as we were being instructed to log out (and I'm fairly certain Roads already had), but there already seems to be a bit of an uptick in view count, so at least someone spotted it.